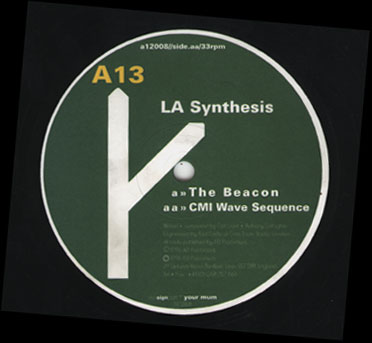 The Beacon/CMI Wave Sequence (released 1996 by A13 productions)
LA Synthesis were formed in South London in 1992. Originally from Liverpool and Birmingham, respectively, Tony Gallagher and Carl Grant met on the fringes of the underground party scene in South East London. Discovering a shared and relatively eclectic pool of influences in common - ranging from Model 500 and Black Dog to Kraftwerk and systems composer Steve Reich - the pair began experimenting with their own tracks, though it wasn't until promotional copies of Agrophobia began to emerge towards the end of 1994 that the duo started to attract attention.
Agrophobia was a near - perfect debut, sewing a memorably trippy hookline (an exquisitely beautiful synth riff that was inspired by Reich's explorations in both minimalism and repetition) through a complex backdrop of clanking percussives and Detroit romanticism. Released on Plink Plonk with a Kenny Larkin remix, the single became a fixture in London's clubs, crossing over into both Detroit and ambient techno sets and igniting a considerable amount of expectation for a follow-up single.
Though Frozen Tundra was recorded for Plink Plonk, the group's relationship with the label proved to be short -lived and the follow - up didn't appear. Aside from live performances - including a triumphant appearance at the Fridge alongside Kenny Larkin and Steve Pullen - LA Synthesis seemed to disappear for most of 1995, re -emerging eventually in 1996 with the CMI Wavesequence single on Mark Broom's A13 label. The backlog of material they had built up during the lengthy break began to filter out slowly, first with the Zebra/Reich single on Blue Basique and, soon afterwards, with the previously stalled Frozen Tundra single which signalled a new deal with the French label Shield.
With plans for an album underway, it finally seemed as if the pair's stop-start career would now build up a momentum but the release of Matrix Surfer (1997) was so low-key that only industry insiders were even aware of its existence. Yet it was a remarkable debut. Fusing ethereal melodic patterns with evolving Detroit - edged grooves, tracks such as If and Positive Negative suggested that LA Synthesis were likely contenders to fill the void left by the recently disbanded Black Dog.
Harmonic Disassembly, released on Global Communication's Universal Language label towards the end of 1997, hinted at a more electro - based aesthetic than previous offerings, though the flip-side's Skyline retraced the classic LA Synthesis fusion of heart- stopping melodics and elegant Virtual Sex-style rhythms. The single's release coincided with the arrival of new member Chris Johnson, a jazz pianist who had been drafted in to help realise the "funkier, more live orientated direction" the group wanted to pursue.
Johnson appeared on just one single, 1999's Doity Dawg on Ultimatum, before Gallagher split from the group to pursue a solo project under the name Linear Systems.
Review of the album Matrix Surfer (Shield, SHLD 101 CD, May 97) from the same source:
Perhaps one of the most overlooked UK techno albums of the 90's. Matrix Surfer is a beautiful combination of second - generation Detroit romanticism and inventive grooves. Hard to find but definitely worth tracking down.
Taken from the Rough Guide to Electronic Music (1999)
Information on Tony Gallagher's new project Linear Systems and Chris Johnston's Johnny Astro (see below) coming soon . . .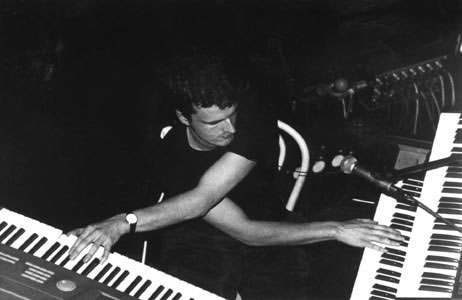 ---
L.A.Synthesis: Discography
Singles
Agrophobia PLK 014T 12" 23rd Jan '95
Agrophobia (remixes) PLK12 12" 28th May '95
Frozen Tundra SHLD 01 12" 11th June '96
The Beacon / C.M.I. Wavesequence A12 008 12" 27th. May '96
Zebra/Riech BLU BQ 12" 10th June '96
Albums
Matrix Surfer SHLD 101 CD CD May 97
Compilations
Apollo 2: The Divine Compilation Appollo AMB5933 CD CD May '95
{Agrophobia} AMB5933 Vinyl May'95
Beyond The Sun DAP LP 001 Vinyl 23rd Sept 95
{Agrophobia} DAP CD 001 CD 23rd Sept 95
Future Techno Inovators; Phuture Trax (CD)
{Agrophobia remix}
BDR CD 010 CD 2nd May '95
BDR LP 010 LP 2nd May '95
BDR MT 010 TPE 2nd May '95
Space Wars PLK CD 3 CD 25th March '96
{If & Ragaphobia}
PLK LP 3 Vinyl 25th March '96
PLK CD 003(Orange rubber cover) (Not sold)
Parasols2 PLK CD 6
{Agrophobia remix} PLK LP 6
BACK TO THREE KEYSOUND HOME PAGE