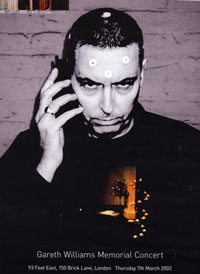 Leave the East London line at Shoreditch, step a few feet, arrive in Whitechapel's swirling cultural center, Brick Lane. Lined with Eastern cuisine, dance clubs, trendy bars, art galleries and community centers galore.
My purpose tonight is a trip straight down memory lane. 93 East is the venue, sat amongst the old Truman's Brewery buildings, home of my mother's former employer until it's closure. Over 30 years on, and a lot of changes for the better have come to the district and it is fitting this special occasion, tonight's memorial for Gareth Williams, is held in this unique area.
20 yrs ago, young men in charity shop suits and stern young women sporting boiler suits and cropped hair sought a soundscape for their own take on life. The Ramones, Pistols, and the Clash arrive faster than a bullet, living for the moment and themselves, instant fix, instant rush, instant high and all consumed in an instant. Shell-shocked, longer hits, deeper meanings and music to shape the mental highs of an accelerated culture was called for.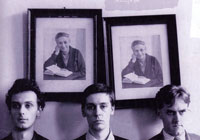 This Heat
Some people experimented and experimented and . . . they experimented but no-one followed, deduced concluded and then constructed the much sought after soundscapes of our demanding life's like the formidable triumvirate This Heat.
With their montages of music, sounds, words and art, crafted as if they were fire and steal forged with love and passion This Heat left a legacy of intensity that the World's finest Industrial bands would forever merely mimic.
The 3 people who embodied this musical vision Charles Bullen, Charles Hayward and Gareth Williams wrote intense music for a tense nation, they mixed tape, drums, guitars, keyboards and voices on two classic albums Shrink-wrap and Deceit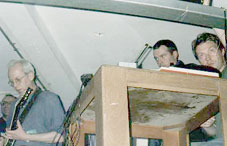 David Cunningham (ex-manager of This Heat) and famous for his left-field singles such as "Summertime Blues" and "Money" (left) playing with Paul Hood (right)
Tonight two decades on and the music of all three is aired individually in respect of the talents and achievements of Gareth Williams.
It's Gareth's friends who come to pay tributes and perhaps hint at the source of this man's special creativity. The setting for the evening begins with an icy drone, charmed by the sweet Indian ballad soulfully sung by Jaya Arunagirinatham. Jaya taps out the heart felt beat, while tabla player Rick Wilson's rhythms dance in and out of the melancholic air. A sentimental melody, in a different language strikes a familiar chord catching the audiences breath for a moment, perhaps a tale of life and death?
With a large rostrum of friends and performers, sets and tributes are kept short and sweet. An audacious clarinet throttling by Pop Group pioneer Gareth Sager follows Jaya's airy lament. He hisses, he spits, moans and groans down the fiery tube summoning god knows what ghosts and the rather stunned audience's attention until they too are scorched by the dark tones. Now there's a tune you can't whistle up a ladder.
By contrast Gareth Williams flowing composition sung by close friends and fellow musicians Marie Currie, Helen East and Nick Goodal transfuses into the heart of the evening. An exotic arrangement of dripping vocal harmony and Gareth's, previously placed on backing tape, mellow keyboard accompaniment. This song has no obvious references but highlights Gareth's very eclectic wardrobe of influences. Each verses overlaps into the cascading choruses surging beyond the constraints of western arrangements. A flawless performance from the vocal trio neatly leads to a comical break before fellow 'This Heat' member Charles Hayward returns us to our musical journey.
Charles serves up his systemic/systematic backing tapes with his own original accompaniments, wind instruments, keyboards and singing, underpinned by the harsh beats of the man's truly great drumming. Mass slogans with positive statements are juxtapositioned with the dangerous undiluted truth. No compromise after all these years. Young and old stand mesmerised, caught in the glare of Charles' stunning delivery. Charles virtuosic ability to juggle rhythms, and discharge reaching vocals has few comparisons, Robert Wyatt is cited by one of the Rough Guides more astute editors (ain't they all sharp). The Rough Guide (for whom Gareth and CB contributed) put together tonight's quality poster/program. Charles' set is worthy of the effort that produced that fine tribute. After all these sets you get feeling that the performers do care and care a lot . . .
After a pleasant stroll to take in some air l rush back in to see who l think is 'Wire' starting an early set. As the band build their first number my mistake is all too apparent. No! Wire's drummer hasn't taken a ton of drugs and aged himself twenty years, it is in fact Tony Marsh and his merry minstrels. The 2 guitars play nice cop, bad cop. One playing melodically, while his mate picks out dry brittle stabs of cross cutting notes. At times the guitars collide and breakdown but Tony Marsh's bebop drumming and his able bass player keep it all tied down, as the set reaches it's climax, brittle guitar plays a beautifully crafted melody plucked from the ether to keep the evening special.

Percussionist Rick Wilson reappears with the versatile vocalist Viv Corringham. Viv's soaring song arches through resolved circles of haunting fluent melodies, a graceful welcome to the final 'This Heat' third, Charles Bullen.
Dueling with clarinet the start of the set seems to stretch the hard working sound crew as the guitar dips in and out of the mix. Mt. Bullen's diplomatic man management soon has the balance sorted, again the audience lurch forward, again the melodies are evolving, again the influences are not hidden and a flowing arrangement carries the listener on a journey, poetic and cinematic. Guitar and clarinet, tools of the ancients, merge in the mind, creating images and emotions overlooked by cutting edge digital media. Bring back the analogue, bring back celluloid, the future is still catching up. It would take a certain type of arrogance to deny the influences 'This Heat' collectively and individually have had, but the mischief inside me cannot help thinking what would happen if the 3 sets played tonight could be like layered on top of each other. Perhaps the guitar has made me a tad sentimental.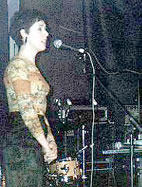 Viv Corringham
The ubiquitous Viv Corringham reappears with electronic Balalaika player Pete Cussack. Cussack's inventive approach to playing ensures a broad range of styles and ideas with few components. Viv`s vocal this time is more brittle, less resolved, yet this is no Dutch concert but concrete music, a clinical example of counterpoint and experiment.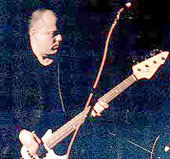 Finally 'Wire' have to go and spoil the party, blow the serene nature of the event, pour petrol onto water and set fire to the evening's air. It's the most outrageous punk blazing, guitar shifting, drum driven, bass thumping, arrogant slice of Rock I've heard since the Ramones first visit to the Rainbow Theatre god knows how many years ago. After this set, I realize how underrated these guys have been. Despite "I am the Fly" and the brilliant "It" album not enough attention was given, indeed perhaps sadly like 'This Heat' you had to be in the know to find them, due to a unnecessary lack of Press.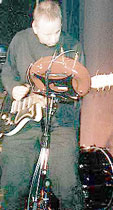 While Gareth and his contemporaries have delivered more than their pound of flesh to the advancement of modem arts and development of current culture, this little baby does not end here but continues in the work and aspirations of Gareth's friends and fellow artists.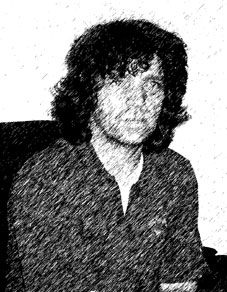 Our correspondent Tyrone Thomas