Wednesday, April 18th, 2018
When we started Flame online in 1998  – with the encouragement of our old, late friend George Solomos (aka Themistocles Hoetis) – we were part of the emerging independent media which was prepared to review both historical and current affairs with the sort of analysis that the info-tainment culture has left behind, along with truth, sincerity and original thought.
Since our last post, we have been contributing to many diverse publications – but maintained Flame as an archive which harks back to the time when our articles were branded 'conspiracy theory' rather than 'current affairs', which is where we are now….
The last post reminded our readers that although Thatcher has thankfully croaked, her policies are being pursued with even more vigour by the Coalition and Tory Governments, which have reduced our welfare state to a shambling skeleton, and our diplomacy to a pale echo of Pentagon policy.
Alongside this is the emergence of the Deep State above the stagnant waters of British Democracy. The whole story of Cambridge Analytica and its parent company (SCL Group, formerly Strategic Communication Laboratories) and their interference in elections across the world, notably Eastern Europe and Africa, has demonstrated just how un-democratic the British Establishment is at its heart. It was reported in The Guardian that until 2014 their election strategies were regarded as 'weapons-grade' by the UK's Government, which meant that CA required permission to operate abroad, and no doubt worked hand-in-glove with the spooks.

It has now been revealed how CA were at the centre of both Trump's rise to power, as well as the Brexit vote in the UK Referendum; it wasn't the Russians, it was British intelligence and their Old Etonian chums / paymasters who corrupted the elections in the West.
It has been revealed, then denied, that CA worked on two UK General Elections. Was 2017 a Tory victory because of the 'weaponised' help they gave their friends in the Tory Party?
We should be told, but probably won't – that's the state of Democracy in 21st century Britain.
We are living in a world now where the subjects we used to choose to write about on early Flame – the surveillance state, intelligence services bypassing or corrupting democracy, and the distortions and omissions of the historical narrative are all coming 'out in plain sight'.
We are now being asked to believe the impossible – that Jeremy Corbyn is a racist, for instance; or the improbable; that Assad would use chemical weapons on a town that his troops were about to take over anyway. We are expected to believe things which are patently untrue, because once we consent to agree we are already halfway to being in a state of mental bondage.
Once we accept that countries, or their leaders, are 'evil', we can bomb them with little conscience; it's a short step from demonising a nation to dehumanising them. We have seen the same pattern again and again; Saddam, Iraq, Ghaddafi and Libya, Assad and Syria.
There is little analysis in the UK Press about the real factors behind these campaigns, which are resource war and the global dominance of a failing Empire. We just get the accusations, the moralising and then the drumbeat to War. We never hear of the distress caused by sanctions, or the paranoia of living in a nation slowly being degraded for invasion.
We should remember where it all leads to – as Saddam had the noose looped around his neck his executioner whispered 'Welcome to Hell!' Saddam's reply as the trapdoor swung open was 'The Hell that is Iraq ?'

And now we are told that the enemy is Russia – just as we were told this the last century back, and the one before…. Now of course, there is the USA – bankrupt, armed-to-the-teeth and looking greedily at the known $76 trillion of mineral and organic reserves in the largest (landmass) nation on earth. Their Government – staffed by disreputable TV personalities, retired Generals and Goldman Sachs bankers on sabbaticals from The Squid – is determined to halt the rise of a multi-polar world and impose an international system where One Nation (under God, indeed!) can determine the future of our planet.
When we first ran Flame we pdf'd various documents and books, one of which was a rare and enlightening book from WWII called The Great Conspiracy Against Russia.
It was published in 1946 with the knowledge and approval of the US State Department, with an Introduction by Senator Claude Pepper to 'educate' the North American public that all of the propaganda against the evil Commies was just that; they had just saved the west from an eternity of Nazi Death camps and a section of the US Administration were prepared to suspend the hostility of the previous 30-odd years.
That didn't last long – in an echo of today, Senator McCarthy, the drunken bigot of US politics managed to get the support of the real beneficiaries of war – hot or cold – the arms dealers and profiteers, to re-kindle the hatred of all things Eastern, or Russian; socialist or liberal.
Further, it presented a real history of how the West intervened to strangle the Russian Revolution at birth, a policy that was a continuation of British involvement in the politics of Russia for the previous century at least.
It's a little known fact that the 'great' Winston Churchill used gas against Russian troops – in Russia – after WWI when the 'Allies' were attempting to overturn the Bolshevik Governments in Eastern Europe and Russia
By 1944 the USA had suddenly realised that the only thing between them and a world run by the Third Reich were the evil Bolsheviks of the Soviet Union, so they had to backpedal on all the lies with which they had brainwashed the US public – that socialism was a godless creed destroying the purity of the (white) American Dream. They needed the GI's to get out to Europe to fight the right enemy; but even before the war ended, they were planning to unleash atomic war across the Soviet Union, and later on, China.
The thinking has not changed; despite the fact that Russia is not a Communist country anymore, although it is still a refusenik, a dissident nation that will not allow itself to be economically scalped and politically manipulated by Washington, or intimidated by the Pentagon.
At the same time, in the UK we have a minority Government whose chickens are all coming home to roost – Grenfell, secret police, corporate collapse, corrupt Ministers. We live in a country that is struggling diplomatically after alienating our closest neighbours in a move that (strangely) only benefits the Pentagon, City of London money launderers and US corporations wishing to dump crap food and dodgy pharmaceuticals on an unregulated backwater on the edge of Europe.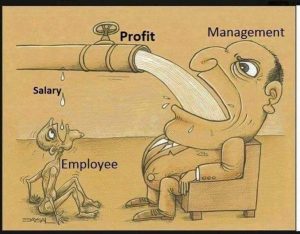 We are being led into a conflict with a nation that is not a real existential threat, and we are being led there by a web of lies, misinformation and half-truth.
The UK Establishment realises that the game is up; the mugs have had enough and the peasants might just get it together to bring their gravy-train to a juddering halt. They are aware that Corbyn would have been in No. 10 last year if he had won just 2,227 more votes in half a dozen constituencies…that's a 2,227 votes difference between the shambles we have now, a cold, callous self-centred Toryism condemning large parts of the poulation to relative poverty and constant insecurity whilst they profit as never before, even from War; or a Government that starts to bring this neo-feudal excuse for a democracy into the 21st century.
That is why we've had the first wave of 'weaponised electioneering' – Corbyn the Czech spy, followed up by the 'Russian' poisoning incident in Salisbury; Corbyn the 'anti-semite' being followed up by 'Syrian' poisoning. Then predictably, Corbyn questioning the rush to war before any evidence has been presented is condemned as a 'friend of Putin'.
So, as the World of Lies emerges to strangle any truth that might manage to break through, we're back to throw a few things out to disrupt the path to Compliance and Acceptance…
We will return to this blog at regular intervals to give any updates, links or info which might be of interest to readers. Below this are links to some of the better independent news and analysis sites online, which we recommend if you want to peer below the surface and get a glimpse of the human soup beneath the surface tension…
LINKS
https://www.craigmurray.org.uk/
Ex- UK diplomat sacked by Blair for telling the truth blogs on current UK & geo-politics
https://www.lobster-magazine.co.uk/
Lobster is one of the oldest, most reliable sources for information about parapolitics in the UK and elsewhere – well researched, based in Hull.
Informative website about military and intelligence matters
Has some interesting articles on geo-politics by various writers
https://lespolitiques.blogspot.co.uk/
English language, political analysis
Long-running site with particular knowledge of French foreign adventures as well as general geo-politics.
Upfront news site with articles and analysis of current affairs
The real Guardian – since the official one became a warmongering trans-Atlantic lifestyle organ in love with Tony Blair and all his bag-carriers…
https://timhayward.wordpress.com/
Scientific analysis of the garbage posing as news told to us by salesmen posing as journalists, worth looking at…
More real news, they did a good analysis of the Establishment figures in the Cambridge Analytica scandal (link in post above).