Visit Mohammed Al-Fayed's website and read his account of Diana's death
Diana crash inquiry report: Final report by Paris prosecutor's office
MI6 and the Princess of Wales by Richard Tomlinson
MI6's plot to assassinate President Milosevic of Serbia in 1992 by Richard Tomlinson
Why were the traffic cameras not working at the Point d'Alma ?
In April 1998, l took advantage of a visit to Paris to photograph the site of the car crash at the Point d'Alma which killed Princess Diana. Prominent in position overlooking the crash site, was a traffic camera, which on the day he was there, was facing the entrance to tunnel where the Diana's car crashed. Of course, it is possible that the camera, at the moment of the crash, it was facing a different direction. However, according to the Lobster (winter 1999), there are rumours that electricity supplies in the road tunnel were cut off 25 minutes before Diana's Mercedes entered it. It could be for this reason, as Lobster notes, that the CCTV cameras covering the crash site both before and after the crash were not working.
When Mohammed Al Fayed's lawyers requested copies of the tapes from 17 cameras that covered the journey of Diana's Mercedes from the Ritz Hotel to the Point d'Alma, they were told by French police that no such tapes existed for those cameras. In fact, French authorities claimed that the cameras were "not recording any images at the time (of the crash). It was noted by NBC that Paris has the "most sophisticated video surveillance system of any city in the world", with all cameras recording to video tape and saved for two days - except on this occasion . . .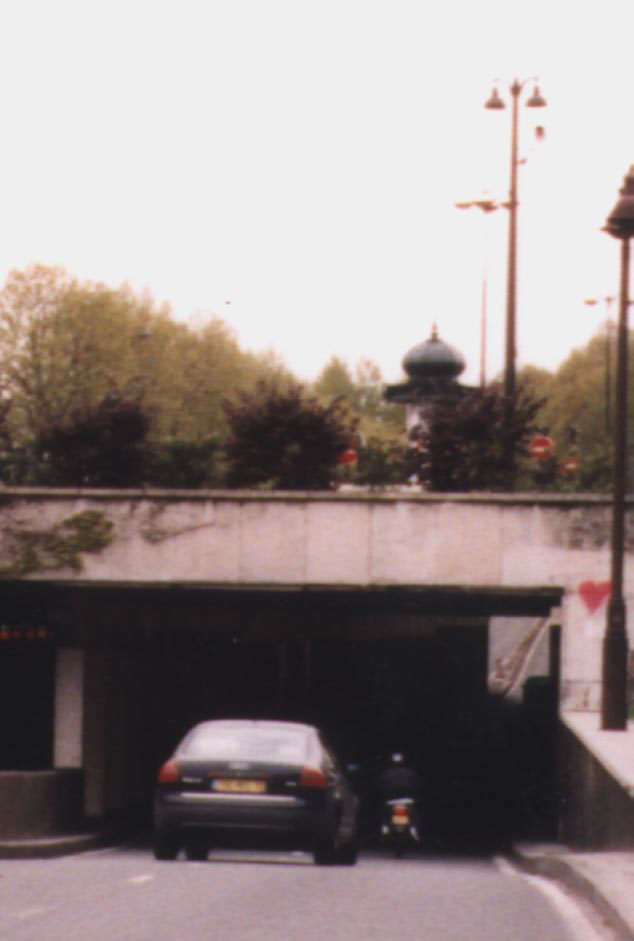 The entrance to the tunnel at the Point d'Alma in April 1998. Note that on the day this was taken, the camera (attached to the right of the street lamp) was actually facing the same direction as the crash. The site at the Point d'Alma is covered with grafitti about Diana and Dodi (some blaming MI5 or MI6 for the crash).
Photographed in April 1998 by Seán Mac Mathúna
© 2000