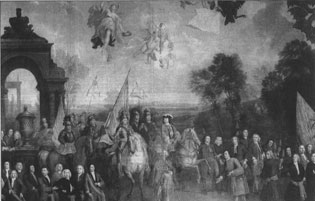 The controversial painting which shows the Pope blessing William of Orange
Mystery surrounds the fate of a painting by the minor Dutch master Pieter Van der Meulen (see above), which portrays William of Orange and his generals being blessed by Pope Innocent XI before the Battle of the Boyne in 1690. As Peter Berresford Ellis reveals in the Irish Democrat, the picture reveals "one of the great myths of history" - how Orange propaganda turned the Williamite conquest of Ireland into a war between Catholic and Protestant. In 1934, a former RUC Inspector and "extreme right-wing bigot", Unionist MP John Nixon (1880 - 1949) led a gang of Loyalists into Stormont where they slashed the painting with a knife and threw crimson paint over the image of the Pope. The painting was taken down and sent away for restoration. It was never seen again, and today is estimated to worth over £500,000. (1)
As Berresford notes, "pandering to popular ignorance was always a policy of Loyalism": the fact that William of Orange was funded by the Pope who funded his victories at the Boyne and the Battle of Aughrim. And when news of the Boyne victory reached the Pope and leaders of his allies in the League of Augsberg, prayers and songs were sung in his honour in the Catholic cathedrals of the countries, and as the painting shows, the Pope gave his blessing to William of Orange.
The background of the struggle in Europe was between Louis XIV of France and his ambitions to dominate Europe - supported by the Stuart King, James II. Their opponents set up a grand alliance at Augsberg which became known as the League of Augsberg. among their members was William of Orange and Pope Innocent XI, as temporal head of the papal states as well as head of universal church.
The painting hung in the Orange parliament unnoticed until March 8th 1933, when as a Unionist MP, Nixon rose in Stormont to demand from the Prime Minister Lord Craigcavon why was there a picture of William of Orange hanging in what he called a "protestant parliament for a protestant people ?". His immediate reply is not recorded, but when he did a year later, Craigavon said first:
"I am an orangeman first and a protestant and a member of parliament afterwards . . . All l boast is that we have a protestant parliament and a protestant state".
He added that the portrait was not his responsibility, it was that of the Speaker of the House, no adequate reply was forthcoming. Seven weeks later Nixon and his gang attacked the painting. No action was taken against Nixon, and the matter was quietly forgotten. As Berresford observes, one wonders where the picture has disappeared to?
In June 1998, a senior Orangeman, the Rev Brian Kenaway, a member of the Grand Lodge of Ireland, asked that the British government give back the controversial painting to help promote King Billy as "an icon for both protestants and Cathiolics can admire". He claims, remarkably, that King Billy's legacy was not meant to spell "protestant domination over Catholics" - it just sowed the seeds for miltary conflict between Britain and Ireland for the next 300 years ! (2).
1 Irish Democrat, August/September 1997.
2 The Observer, 12th June, 1998.
© 1998