The Tibetan Government-in-exile
Support the campaign to persuade the Lord Mayor of Dublin from agreeing to the twinning of the Irish capital with Beijing
An Annotated Chronology of Tibet in the 20th Century
Bicycle trip over the Himalayas
Tibetan Cultural Region Weblink Directory
Contents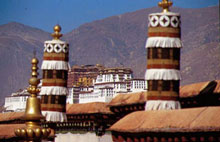 The journey unfolds
It was the 26th March 1986 and a Full Moon was due. I had arrived in Nepal two days earlier from India after spending almost three months in the country. During the afternoon, I was sitting on the steps of a Shiva temple in Durbar Square, near of old royal palace in the centre of Kathmandu with my friends Lee and Chris, when a middle-aged American approached us and asked "You guys feel like going to Tibet?". We asked what the details were, and he told us he could arrange it for $50. We said we would think about it, as going to Tibet, which we thought then was a closed country under Chinese occupation, had not been on our original travel plans when we had left England in December 1985. I didn't have that much money, and initially, l was not into the idea. Along with my two other travel companions, we banged our heads together and decided that we just had the money to get there and back.
Tibet had only been open to foreign travellers since 1984, and the route over the Himalayas via the village of Tatopani had only been clear for travellers to cross into Tibet, since the beginning of 1985. So we would be some of the first backpackers to be lucky enough to get there. We had a feeling that we would not have a easy time: We had heard that the Chinese policy on individual tourism in Tibet seemed to be one of extorting as much cash as possible from travellers - but no so much as to scare them off.
Before very long, we had taken it one step further: we would go to the Pakistani embassy in Kathmandu and get visas: We had decided to go into Tibet, then cross into China and come back to India via the Karakorum highway in the Pakistani part of northern Kashmir. I personally knew that this was an ambitious plan considering my lack of funds. Anyway, we decided to go to a hotel in the north of Kathmandu and hand over our passports to these dodgy American's who were obviously doing some kind of deal with corrupt officials in the Chinese embassy (It was our understanding that you could not get a visa for Tibet in Nepal). We decided to go for it. In the meantime there was a really nice hill station outside Kathmandu called Nagarkot, which was said to have panoramic views of the Himalayan mountain range on a clear day, including Mount Everest (known by the Nepalese as Sagarmartha or Brow of the Ocean). We decided to spend a few days there, leaving Kathmandu by bus on April 1st for the short journey to Nagarkot.
We ended up spending two days there - it was really cold, but it gave us a taste of what to expect in Tibet. Its not a village or anything (the area was first developed as an army base), but more a collection of guest houses and hotels that stretch along a cultivated ridge for a couple of miles at 6,397 ft (1950 m). One morning we did get up and we saw the Himalayan mountains for stretching as far as the eye could see, including Mount Everest. We all felt very excited about travelling through the Himalayas to Tibet. The visas were sorted out by the Chinese embassy on April 7th. When we went to pick them up, someone who spoke Chinese, claimed they indicated we were going into Tibet at a completely different point to the one stated in the visa.
We then went to the Pakistani embassy and collected visas for for the trip through Kashmir. Initially, we were planning to go a difficult route from Tibet to China and into Pakistan, along a road that follows the Himalayan mountain range via the holy Mount Kailesh, which is roughly where Nepal, India and Tibet meet. Hindus believe the God Shiva lives there. It it also a major pilgrimage centre for Hindus and Buddhists. As Asia's most sacred mountain, Tibetans revere Mount Kailesh. It stands completely alone with no other peaks near it. Pilgrims travel to this remote area in far western Tibet to complete the circuit around the base of this sacred mountain (to do so is said to erase the sins of a lifetime), and to the holy Manasarovar Lake. The four great rivers of Tibet, India and Nepal have their origins near Kailesh; the Tibetans consider these rivers and their sources sacred. As we were walking out of the Pakistani embassy, we bumped into the ambassador, who laughed when we told him of our route to Pakistan. "You'll never make it" he warned, "there's very few people who live there, let alone means of transport or food". We were later to find out he was right, which was confirmed when we arrived in the village of Lhatse, on the way to Shigatse in Tibet. The only way to travel along that route is in the back of lorries - and then you don't know how far the lorry is going. And if they leave you in the middle of nowhere, it might be days - or longer - before another lorry comes along. There are no hotels or shops, it it was clear that not only was it virtually impossible to do the journey, any attempt could easily lead to a life-or-death situation. We quickly abandoned the idea and settled on making our way to the Tibetan capital, Lhasa.
Tatopani and Kodari
The best way to get there was by bus from Kathmandu up to a village called Tatopani, which means "Hot Water" in Nepali. It is the most famous hot water spring in Nepal, situated right across the border between Nepal and Tibet at the end of the Arniko Highway. The road was built originally by the Chinese - must to India's distress - in the 1950's.
We left Kathmandu at 5 am on April 18th 1986 and caught the 8-hour bus to Tatopani, arriving early one evening. We decided to get acclimatised here as it just short of the Tibetan crossing. Kathmandu is at 4291 ft (1500 m) above sea level, with Tatopani at 5019 ft (1530 m). However, before you get to Lhasa at 11,811 ft (3600 m), you have to cross the Lhakpa La pass which is at 17,126 ft (5220 m).
We had heard stories of people being struck down with altitude sickness because they attempted these journeys to soon, so we decided to take it easy. This illness is known as Acute Mountain Sickness (AMS) and you are likely to be affected by this as you pass over between 11,000 feet (3400m) and 13,700 ft (4200 m). For travellers to Tibet, this includes the section of the road after Nyalam, and the Khama mountain pass before Lhasa. Thus, we spent about five days in Tatopani, exploring the surrounding mountains during the day, including the Shiva temple in a cave across the Bhote Kosi river from Tatopani, and chilling out in the evenings. I read somewhere later that it was the deepest gorge on earth. This l can certainly believe, as it is surrounded by some of the tallest mountain peaks of the Himalayas, including Mount Shisha Panma at 26,398 ft (8046m).
The first place we stayed in was a Nepalese house, with a goat in the downstairs room and chickens in the rafters above us in the room where we slept. We went to bed laughing about whether the chickens would drop their crap on us whilst we slept. They didn't. It later turned out that the mice attacked our rucksacks, succeeding in making about four holes in mine - drawn by the cheese, bread and muesli in the bottom of it.
Tatopani is a very nice village, but very cold at night. The worse part of the night would be having to go down the stairs into a dark room (containing the goat), and make you way to a door which led to the top of the river bank. There is no sewage system in Nepal, so every village and town that has a river uses it basically, as a toilet (hence, the risks of hepatitis etc). I had seen people using the Bagmati River in Kathmandu either as a place to wash or as a toilet. We were advised again and again by travellers never to drink water from rivers in the mountains, unless you are on ground high enough to know that there are no villages above you.
The hot-water springs in Tatopani are down a narrow footpath near the river. Here you could wash as much as you liked - when you liked. It was nice first thing in the morning to have a long hot wash with the other villagers, some of whom would also be washing their clothes there. The waters there were said to have healing properties. I once saw a Tibetan monk at the springs washing a leg with what looked like some form of dermatitis on it. It was certainly the first place that l had seen cannabis growing everywhere - by the sides of the roads, and everywhere up in the hills, and when we down at the springs one day, a local Nepalese man pointed out this fact and exhorted us to smoke it. But, it wasn't the sort that was good enough to smoke, so we didn't bother.
Knowing that we were going to a very cold country, neither of us had sleeping bags - who needs to take one to India or Nepal unless you are trekking ? We had met someone who had told us that a silk sleeping bag within a proper one would keep us warm. So we took this advice, and bought the silk in a market in Kathmandu, then took it to a sowing shop, where the sleeping bag was quickly made for about 10 rupees. Cheaper than buying a sleeping bag, it kept us warm in Tatopani, which was very cold at night, compared to the humidity of Kathmandu. As something very cheap and practical, l would advise anyone who travelling to Tibet to get one made when they get there - especially if you arrive in Kathmandu first.
We knew that food would be short, so we bought some muesli and cheese and some other basic food stuffs to keep us tied over. We had also heard in advance from other travellers not to expect to get regular food supplies in this part of Nepal or Tibet. We had no maps (although l did buy a Tibetan phrase book in Kathmandu), little money, and no knowledge of Tibet. I didn't know what to expect when we left Tatopani and crossed the border. The food was awful in Tatopani, the only basic foodstuff available was an omelette or dahl bhat. We all seemed to be losing weight quickly ! I did meet two interesting people in the village though. I was walking out of a cafe after just eating my omelette, and there walking up the road towards the border post were two Tibetan monks and a Nepalese man. Seeing they were very friendly l approached them with the Nepalese greeting Namaste ! The Nepalese man explained to me that one of the monks was a Rinpoche (Precious One), an incarnation of a famous monk. He was a Lama of a Monastery (or Gompa) secretly returning to organise people and guide his monks living under Chinese occupation. I wished him well, as l knew that he was risking his life simply by spreading the word of Tibet's leader, the Dalai Lama, through the monastery.
Genocide in Tibet
Meeting the Lama in Tatopani made me realise how little l knew about the political situation in Tibet. However, being reasonably knowledgeable on history (the only subject l ever did well at school), l had a basic outline of Chinese rule in Tibet. I had long been interested in Buddhism, ever since my friend Tom Spiers, gave me the book The Dhamapada in 1983, which left a profound impression on me. Apart from that, the closest books had come to reading about Tibet and its people was when l came across Magic and Mystery in Tibet by Alexandra David-Neel (Unwin Books, London, England, 1965). She was the first European woman to travel to Tibet in the 1920's, and she had met the 13th Dalai Lama in Sikkim whilst he was there on a state visit. He encouraged her to learn Tibetan first, and after studying it, she became a Buddhist, and later a Lama. Her book is now recognised as a classic and a unique insight into the Tibetan people before the Chinese invasion. I had also read The Bardo Thödol (The Tibetan Book of the Dead) which was originally translated by Lama Kazi Dawa-Samdup and edited by W. Y. Evans-Wentz (Oxford University Press, London, England, 1927). Dawa-Samdup had also met David-Neel when she first travelled to Sikkim in the 1920's.
What l was to see in Tibet, after leaving Tatopani, shocked me and my friends - the destroyed monasteries, the smashed culture, and the widespread colonial settlements of Han Chinese, whose population is now said to be bigger than the indigenous Tibetans. As there is a large Tibetan population in Kathmandu, its quite easy to find out, and see the consequences of the Chinese occupation, with over a 100,000 Tibetans living in exile. Thus, from this point of view, Lee, Chris and myself were very fortunate in being some of the first Western backpackers to Tibet in 1986, as noted by Chris Taylor in Lonely Planet guide to Tibet (1995):
"In 1986, a new influx of foreigners arrived in Tibet. The Chinese began to loosen restrictions on tourism, and a trickle of tour groups and individual travellers soon became a flood . . . For the first time since the Chinese takeover, visitors from the West were given the opportunity to see first hand the results of Chinese rule in Tibet".
Tibet lost its independence in the last century - first, it was invaded by Britain in 1903, and after the British withdrew, it enjoyed independence until it was invaded and annexed by China in 1950. The Chinese Communists claimed it as an ancient province, and justified their actions by saying that it was "saving" Tibet from feudalism. Thus, when the Chinese army invaded Tibet on 7th October 1950, the Tibetan army, a poorly equipped army of some 4000 soldiers, was in no position to resist a force of some 30,000 Chinese troops, who attacked Tibet from six different directions. Neither India or Britain - traditional friends of Tibet - opposed the Chinese invasion; in fact, shamefully, they convinced the United Nations (UN) not to debate to issue at all for fear of incurring China's wrath.
Only the CIA provided covert help to Tibetans eager to take up arms against Chinese rule. But this was because the CIA also supported the nationalist Chinese forces based in Burma and Taiwan, as part of its secret covert war against Communist China in the late 1940's. From bases in Nepal, the CIA provided radio transmitters and arms to armed resistance groups who would later be ruthlessly crushed by the Chinese army. When the Dalai Lama had been forced to flee Lhasa (disguised as a soldier) on 17th March 1959, the CIA sent in agents to help get him out, who included the son of the famous writer Edgar Allan Poe. With their help, the Dalai Lama and his entourage made it safely across the border into India.
I met a Tibetan in Nagarkot who claimed that when the Dalai Lama fled from the Norbulingka Summer Palace, he was hit by Chinese bullets - which just bounced off him. In fact, although l found out later, that no such incident had happened, it indicated to me that Tibetans believed that the Dalai Lama was protected by magical powers. In fact, l have heard it said that some Tibetans believe that Tibet's karma was bad and that's why China invaded the country in 1950. Apparently, this had been foretold by bad omens (such as a earthquake) and other prophecies (similar statements were made at the time of the uprising in Lhasa in 1989). I have also heard the argument that if China had not invaded Tibet, then a significant number of Tibetans would not have been sent into exile, and thus help spread the message of the Buddha to the world, all of which l can believe.
The Lonely Planet guide to Tibet - which l was pleased to see takes a healthy stand against Chinese rule - was handy to check background information on some of the places l visited. It also describes the Chinese occupation as the "worst misfortune the inhabitants the 'Land of the Snow' have been forced to endure". In the last fifty years or so, it is estimated that as many as 1.2 million Tibetans have died as a result of the Chinese "liberation" - many of them (notably monks), executed or dying of hunger in concentration camps. Some 100,000 ended up in forced labour camps - the alleged source today of many of China's manufactured exports. Furthermore, some two-thirds of Tibet were absorbed into China, notably the northern Amdo province, which was the birthplace of the present 14th Dalai Lama of Tibet. The number of monasteries in Tibet was reduced from 6254 to around 10 - many of them looted and destroyed by the Chinese army. This l could believe, as l saw with my own eyes as we drove from Nyalam to Shigatse (and along the road to Lhasa) many ruined monastery's and forts (Dzong's) on distant hilltops.
I kept a diary every day when l was in Tibet, and when it came to writing this story of my journey there, l bought a couple a books on Tibet to get some more background information to include. Once again, the Internet proved invaluable: Not only was l able to check a multitude of sites dealing with travel to Tibet (including overpriced bicycle trips), it has been the main source of pictures used in this essay (as l didn't take a camera to Tibet). I also checked out websites dealing with Chinese repression in Tibet - Amnesty International, Human Rights Watch, the Tibetan government-in-exile, International Commission of Jurists, and most of the official Chinese government websites, which all give a completely distorted version of Tibetan history. Much of what l read in the Lonely Planet guide to Tibet:
"When the Chinese allowed the first tourists into Tibet in the mid-1980's, they came to a devastated country, Most of Tibet's finest monasteries lay in ruins; monks who under a recent thaw in Chinese ethic chauvinism, were once again donning their vestments, cautiously folded them back to display the scars of "struggle sessions"; and the Tibetan quarter of Lhasa, the Holy city, was now dwarfed by a sprawling Chinatown. The journalist Harrison Salisbury referred to it as a "dark and sorrowing land".
Arrival in Tibet
Thus, on April 23rd, we left Tatopani on small bus crammed with people and totally overloaded, and made our way up into the clouds to Tibet. The next stop is a couple of miles up the road at Kodari, where the Nepalese customs post is. After having our passports checked, the bus made it's slow journey up to the so-called "friendship bridge" over the Bhote Kosi river that divides Nepal and Tibet, and begun the long journey to the Chinese controlled Tibetan Customs post about five miles up at Khasa (Zhangmu).
The view as we got higher was amazing, the further we drove up the road, the more nervous l got - especially when l noticed that the road - which is taken away on regular basis by landslides - was nothing more than just a mud-track. Eventually, we turned a corner to be confronted by armed soldiers and a banner that declared "Welcome to the People's Republic of China". The bus came to an abrupt halt and we were taken out and into a Customs hall, surrounded by smiling Chinese officials to have our bags checked. They didn't really check them. They just looked inside our rucksacks, like they were in a hurry and then smiled at us and they passed them back. Maybe there's a bus leaving in a minute l thought. There wasn't. I noticed that all the Tibetans on the bus had been taken to one side, as the three of us had out bags checked. When we came out, l saw that all the baggage belonging to the Tibetans was piled up on the side of the road. You could tell they were going to be there for hours.
We were in Khasa, a small village perched on the side of the road that goes through the Himalayas. But where to stay ? and how do we get out of this place to Lhasa ? We had heard that there was at least one bus a day going to Shigatse, the nearest Tibetan town - but how do we catch it ? None of the Chinese seemed friendly and if any of them spoke English, they didn't to us. We noticed that there were Chinese men - possibly businessmen - driving range rovers out of the village towards Shigatse. We decided that the only way the three of us were going to get out of this place was to just hire one of these cars, and then pay what we thought was a fair fare in cash at the other end.
My own experience in India had shown me that if you roughly know the price of something, sometimes just pay and walk off - especially if you have little money. You just can't afford to pay the sort of prices that some people demand, especially when then refuse to barter with you. Generally speaking, l only really came across this in Tibet. The Chinese were the worst. We did try asking a couple of range rover drivers how much it would cost to drive to Shigatse and the prices they quoted us were just outrageous. So we decided to book a room and go on the attack in the next couple of days.
The following day, l saw for the first time, a mountain bike. I was a keen cyclist long before l went away to India in 1985. We were walking around Khasa one afternoon when we came across these four Americans pulled up along the side of the road, one of them, l think, had a puncture. I got talking to a Chinese or Japanese American who said his name was "Robert". I was amazed to see cyclists at this height making the hazardous journey across the Himalayas. I asked him why they were doing it, and he told me that they were being sponsored by the National Geographic magazine to go into Tibet and take pictures. I didn't think about it at the time, but later, after meeting "Robert" again in Lhasa on May 30th, l thought to myself, how good a cover that would be for CIA agents getting into Tibet.
To Nyalam
The following morning on April 25th 1986, we got up and managed to hire the first range rover we saw. We didn't bother asking about how much it would cost, we just piled in and told the Chinese driver one word: "Shigatse". It would be a two day journey to the second biggest in Tibet. From Khasa to Lhasa it is 520 miles (837 km), and a journey that can take up to four days. The next place along from Khasa is a another village called Nyalam which is at 12,467 ft (3800 m), where the temperature really drops. I already knew that nearby (some 10 miles or so) was a temple associated with Milarepa, the famous Buddhist mystic and song writer, who lived in the late 11th and early 12th centuries. But there would be no time to visit it, although l saw it in the distance on the way back to Nyalam later.
After arriving, we were taken to what seemed like a prefabricated hut (l think it was a hotel for truckers), and given a room with three beds for the night. Before we left the driver, he indicated by pointing at his watch and making gestures with his fingers, that we would up early the next morning at around 4/5 am for the journey to Shigatse.
The room had one broken window at the end of it, and l remember looking out through it after dusk and seeing the snow falling down, and for the first time Tibetan nomads with their Yak herds grazing outside the tents where they were living. I was amazed that nomads could live at this altitude, but then again, as l was to find out, the Tibetans are a hardy people. In our room, the beds had two huge duvet's, under which we slept almost fully clothed in our silk sleeping bags. Our bodies shaking, we crashed out.
It seemed that l had only just shut my eyes when there was a loud banging on the door. It was still pitch black, but when we looked at our watches it was about four-thirty in the morning. We got up and made our way bleary eyed to the range rover. As we drove out of Nyalam we seemed to started leaving the Himalayas behind us. Up ahead was the Lalung Leh pass which is at 16,569 ft (5050 m) high, followed by the Lhakpa La pass at 17,126 ft (5220 m). We got there after a few hours.
After driving for hours upwards you suddenly come up to the pass and cross over onto a large flat plateau, known as the Lhakpa La pass. Here we saw the first Tibetan prayer flags and small Chörten's (or Stupa's), which contain the remains of Lama's, and incense sticks burning. From here, if you look from left to right, you can see virtually the whole Himalayan mountain range - including Mount Everest - very clearly. We didn't stop for long, just enough to exercise our feet and have a quick chat and marvel at the view. Before very long we were on our way to Shigatse via Tingri and Lhatse.
We thought that we had hired the range rover to ourselves, but to our disgust, the driver stopped and picked up a Chinese soldier, despite us urging him not to do so. From this moment we fell out with the driver. The other thing that really pissed us off was when we drove near to Mount Everest between Tingri and the Shegar checkpoint (where our passports were checked again), and saw it towering above all the over mountains about 130 miles (80 km) miles away. It had a name long before the British called it Everest: the Tibetans and Sherpa tribes call it Chomolungma (Mother Goddess of the World). We wanted to stop the car and get out and sample the view - but the driver would not stop. We all started to lose our temper with him and l could see this driver was going to get short shrift when we stopped at Shigatse.
Shigatse - Seat of the Panchen Lama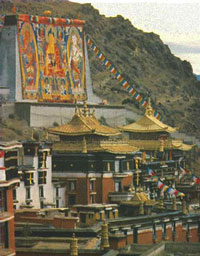 The Tashilhunpo monastery, Shigatse, Tibet.
On religious days huge paintings (or Thangkas) are displayed, as shown in the picture. Inside one of the Chapel's is a huge 86 ft (26 m) gold-plated Maitreya, made in 1914 under the auspices of the 9th Dalai Lama and completed in 1918 by over 900 artisans and labourers. It is decorated with more than 300 kg of gold, and covered with precious stones.
Picture from:
http://www.green-lotus-trekking.com/photos/photos_tibet
We arrived in Shigatse (12,700 ft/3900 m) late one afternoon on April 26th 1986. We pulled up in the centre of the town at a crossroads near the impressive Tashilhunpo monastery. I remember looking out of the window of the range rover and seeing some Tibetans from the Kham tribe in eastern Tibet, who wear distinctive red tassels in their long hair, sitting on their horses, one of whom had a huge sword around his waist. They were looking on when the range rover pulled up, and we got out, unloading our rucksacks onto the dusty road. We had already planned how we would deal with the driver, and l went up to him and passed him the money for the journey through the window. We gave him roughly what the bus fare would have been from Khasa to Shigatse. The guy freaked out. He obviously thought that he could get a $100 or more off the three of us (or something similar) for the journey. We simply paid him the money and walked off, leaving him shouting at us. I noticed the Kham horsemen looking on amused.
Thus, we began a 16 day stay in Shigatse, not leaving the town until May 13th. The town is in the centre of a small, heavily populated river plain near the Yarlung Zangbo (Brahmaputra) River. After Lhasa, it is the second most important trade centre in Tibet, as it is on the ancient caravan route that once linked Tibet to Nepal and Kashmir. The town is the traditional seat of the Panchen Lama (which means "Great Scholar"), who once ruled about 4,000 monks in the monastery of Tashilhunpo (founded 1447). The monastery was founded by a disciple of Tsongkhapa Genden Drup, later recognised as the 1st Dalai Lama.
We stayed in the Tibetan quarter at the Tenzin Hotel, which is opposite the ruined Shigatse Dzong (fort). When l first saw it, l thought it was a just large hill covered in rubble (like the Dzong at Lhatse). We were shown old photographs that showed the Dzong. It was quite clear that the Chinese had just blown it off the side of the hill, just like all the others. It was once the residence of the Kings of Tsang and later the governor of Tsang. Pictures dating before 1959 (when it was destroyed), show an impressive structure similar to the Potala Palace in Lhasa.
We spent many days on the roof of the Tenzin Hotel from which you can get a good view of the town. It's also a good place to meet up with other travellers and exchange stories about Tibet. I think it was this hotel that had the worst toilets l have ever seen in my life - simply a bare room with five or six holes in it. Everyone just piles in, drops their pants and sits above a hole. The first time was the worst, as since its the only place to have a shit you just have to get on with it. Below you, and visible through you legs, is another room - packed with a very large mountain of excrement. It was some poor persons job to clear this out - and l bet is wasn't the local Chinese - It seems the plumbing system did not come with China's "peaceful liberation" of Tibet !
After arriving in Shigatse, l quickly started to regret not being able to speak Tibetan - as none of them could speak English. The only words l really learnt were the basic ones such as the Tibetan greeting Tashi Delek, Kale Shoo (good-bye) and Thoo Jaychay (thank you).
Shigatse was a town notorious for it's rabid dogs, packs of which would roam the outskirts feeding off anything they could eat. We were given simple advice - keep you distance but be armed with a study stick and be prepared to kill if you have to. Thus, l was amused to read the warning in the current Lonely Planet guide: "Watch out for Dogs !" One of the worse diseases you can get is Rabies, and that's the last thing you can afford to catch in a remote area of Tibet at least 300 miles from the nearest airport. I didn't have travel insurance so l was very wary of these animals. On one occasion l saw them eating a dog by the side of the road. Chris got into a tight spot with some of them one day, but quickly managed to dispatch one with a swift kick to the head. Apparently the Chinese had gone around slaughtering them from time to time (on justifiable public-health grounds), but this caused great upset to the Tibetans, who of course are strong believers in reincarnation.
Although l never became ill in Tibet, l would recommend travel insurance in case you do. A German friend of ours became ill in Lhasa with hepatitis. The first problem you have if you don't have insurance, is how to pay the bill at the hospital when your admitted. Our friend was taken to the People's Hospital in Lhasa, where we visited him. The standard of health care was very good, but foreign nationals were charged up to six times what the locals were. If you don't have travel insurance (or sufficient funds on you on) you've got problems if the illness is serious. If you need to be flown home (as our friend was), then it's left to your embassy to get you out. The best way to avoid these problems is to always follow advice - whether it's about altitude sickness or hepatitis - and common sense - don't drink out of rivers (or wash) which people use for sewage, or worse, industrial waste. And of course, be careful of what you eat !
The Tenzin hotel is quite big with large dormitory style rooms. It had a friendly atmosphere and there was good food available nearby. Nearby is then the Tashilhunpo monastery - then the seat of the 10th Panchen Lama, and outspoken critic of the Chinese regime, who died in suspicious circumstances in 1989 (i.e. the Chinese are thought to have poisoned him). In 1964, he declared that one day, Tibet would be free and the Dalai Lama would return in glory as their leader. He was effectively put under house arrest, and kept in Beijing, visiting Tashilhunpo only under strict Chinese control.
The monastery is surrounded by a huge wall, and immediately to enter the main gate you get a grand view of the complex. It has a large building - clearly visible from some distance - on which huge paintings (or Thangkas) are displayed on religious days. I was astounded when l entered the Maitreya Chapel, thought by some to be one of the most impressive sites in Tibet. Inside is a huge 86 ft (26 m) gold-plated Maitreya, made in 1914 under the auspices of the 9th Dalai Lama and completed in 1918 by over 900 artisans and labourers. After walking in through a small door you are confronted by a the huge feet of Maitreya who is sitting serenely in the lotus position, with a huge turquoise ring on one of his fingers. It is decorated with more than 300 kg of gold, and covered with precious stones. On the walls are more than a thousand images of Maitreya against a red background.
In this monastery, l also saw the buildings where monks lived in isolation, reputedly for periods ranging from six months to a year. Here they learn the skills of mediation. In one building you could see some windows were partly blacked out, others were completely shut out to the daylight. The monks inside have no contact with the outside world, and the rooms are built in such a way, so that food and water can be left without any contact being made. Along with Lee and Chris, l wandered around exploring the monastery largely uninterrupted. It is relatively intact compared with other Tibetan monasteries, having survived most of the repression of the cultural revolution. I also walked most of the Tashilhunpo Kora with Lee - which is a circular path around the monastery, and takes about an hour to complete - armed with a stick to deal with the wild dogs. Even here, l notice that the Lonely Planet recommend you "keep some stones at the ready". The presence of rabid dogs prevented us from completing the trip.
Everywhere in Shigatse, l went l found Tibetans warm and friendly - eager to invite you in to their houses and give you a cup of the initially foul-tasting butter tea. When l first went to India, at first l found their tea (chai) hard to get used to - very strong with loads of sugar in it. But l developed a taste for it and ended up loving it. But with butter tea it was a lot harder. Watching the making of butter tea doesn't endure you to drinking it. The tea is mainly made from the butter and milk of a Yak. This is all mixed in huge dollops in a large pan to produce the tea which Tibetans drink feverishly. I didn't develop a habit for it, and l found it difficult when l was in a front room of Tibetan house, being constantly offered a refill on the cup every time l drank out of it. But that's the Tibetans for you - for they are a polite and hospitable people.
One thing l noticed that drives them into a state of ecstasy, was if you produced a picture of the Dalai Lama. This we had been told in Kathmandu. One of us had such a picture, and when Tibetans saw it they would pass it around and bless themselves with it. I later regretted not bringing a huge bag full of photos just to hand out to them - though l later discovered it was very dangerous for a Tibetan to be caught in possession on such a photograph. I know now that the Chinese police would have probably given us a beating if they had found us showing Tibetans our picture of him. Anyway, it was given away to a Tibetan family who were very friendly towards us.
We also went to a Chinese disco (or rather gatecrashed one). Walking through Shigatse late one night, we heard disco music coming from a modern building which looked like a college near the monastery. But it was surrounded by a high fence with a huge gate. We soon climbed over it and barged our way in and upstairs to the "disco". I noticed that it was full of young Chinese youths (who never seemed to socialise with the Tibetans). We walked into this huge sports arena just as the Bony M track The Rivers of Babylon was playing. Both sides of the hall had tables running up along the walls with thermos flasks in them (containing tea). The men were dancing with the men and the women were dancing with the women. As we walked in, they all just looked at us with a "what the hell are you doing here" stare. We promptly turned around and walked out, laughing to ourselves as we jumped back over the fence again.
I also attempted to get my rucksack repaired in Shigatse, which had been badly holed by the mice in Tatopani. I found a Chinese woman working on the street with her sowing machine, repairing some clothes. I showed her all the holes in the rucksack, and we agreed a price. Later that day, l went back and picked it up. I should have checked that she had done all the repairs. She hadn't. I immediately took it back to her, and as l approached, l tried my best not to be angry. I showed her the holes she hadn't stitched up, and she repaired them. When she handed back the rucksack, l just walked off, leaving her shouting at me. What a cheek l thought, her thinking l would pay twice for the same job.
In India and Nepal, there is little or no contact with women. In contrast, l found Tibetan women to be very friendly. Once, walking down a street in Shigatse, two women walked passed me who were selling Turquoise stones. One of them grabbed my hand and pointed to the beautiful jewellery made up of the stones she was wearing around her neck, and as rings on her finger. I politely turned down the request to buy some, as l knew l didn't have enough money.
To Gyantse
On May 13th 1986, we left Shigatse for Gyantse a two hour bus drive away (55 miles/90 km). After a short bus journey we arrived in this small town distinctive for it's huge Kumbum Chörten (one of the largest in the world), the Pelkor Chöde monastery and it's own Dzong (fort) on a large hill - last destroyed by British artillery in 1903. The buildings date from around 1440. At 13,000 ft (3950 m) its a bit higher than Shigatse. It's also the least Chinese-influenced of Tibetan towns, and said to be worth a visit for that reason alone.
The Kumbum Chörten is an impressive structure that rise over four symmetrical floors and is surmounted by a gold dome that rises like a crown over four sets of eyes that gaze serenely out in the cardinal directions of the compass (see pictures). You walk in a clockwise route up through all four floors of the Kumbum taking in the chapels that line the walls. It is quite clear that the Chinese have destroyed parts of the Kumbum Chörten and the once 14 monasteries that made up the Pelkor Chöde monastery. The central image within the main chapel is of Sakyamuni, who is flanked by the Buddha's of the past and the future. Around the chapel are murals which display many of the Bodhisattvas.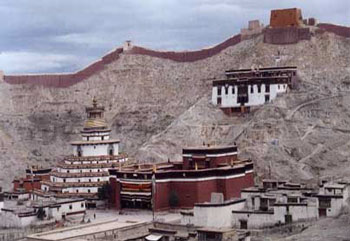 The Kumbum Chörten (extreme left), Gyanste, Tibet.
Picture from http://perso.club-internet.fr/pchanez/Images
We stayed for four days until May 17th. The Chörten was very impressive and l spent a whole day up in the Dzong (with Lee, Chris and a German friend, Günter), after a local Tibetan gave us the keys to to get in. The top of it also has panoramic views of the Nyang Chu valley, and it is the best place to view the Kumbum Chörten and the Pelkor Chöde monastery. The Tibetans may have been able to see the British army led by General Younghusband advancing from some distance (like with the Chinese later), but they never had the weapons these modern armies did. Apparently the Dzong fell after just one day of siege leaving 300 Tibetans and 4 British soldiers dead. The Tibetans had regarded the Dzong as impregnable, and there was said to be a prophecy that if it was captured then Tibet would be defeated. The British promptly marched on Lhasa without further incident.
Gyantse is a very small town - more a village really. We stayed at the Tibetan Gyantse Hotel, which had an excellent kitchen, where we eat our first decent food since leaving Kathmandu.