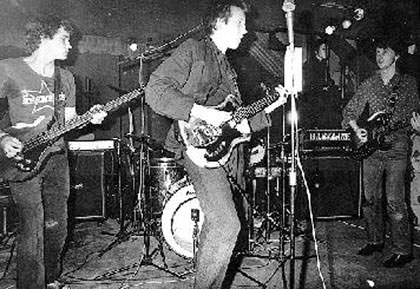 In July Mark Perry left his job as bank clerk and started to do the very first punk fanzine called Sniffin' Glue. He used name Mark P. 'cause was afraid that government will cut his unemployment check if they will know that his "an editor". Writing does fill his ambitions so he started a band in March 1977 (some sources says in July 1976, but . . . ).
The line-up was at that time: Mark Perry (vocals, guitar), Alex Ferguson (guitar), Micky Smith (bass), John Towe (drums). Towe did also play in Generation X. In summer Tyrone Thomas came to play the bass and in autumn Towe stopped playing in ATV and was replaced by Chris Bennett. The first record was a flexi (Love Lies Limp) which was given away with Sniffin Glue in September 1977. Soon also Alex Ferguson left the band - to form Cash Pussies. and when they change bass player once again (now Dennies Burns) the best know line-up was ready. Which was: Perry (vocals, guitar), Burns (bass) and Bennett (drums). The first "real" single (How much longer? / You bastard) (Dec `77), was raw power on both sides and pretty much of its time, unsophisticated, angry, and as street-cred as a razor-scar.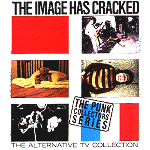 Subsequent single releases were increasingly complex, conveying more of the artistic vision but at the expense of immediacy, sincerity and those loveable wrong notes. At this time Perry also became the director of Step Forward Records (owned by Copeland who also owned Deptford Fun City). Perry signed band like Chelsea, The Cortinas and The Models to Step Forward. Perry had always refused to compromise and, by refusing to kiss the corporate ring, he blew any chance of becoming a star; he settled for being a bit of a legend instead. At the end of `78, having shaken off everyone except the faithful Dennis Burns (admirable bass guitar), Perry strode boldly into the undergrowth of hippiedom and the avant-garde. ATV split in April 1979, same time as the single The Force is Blind was released.
He (and Burns) teamed up with art-school wierdo Genesis P Orridge for a while, toured with Here & Now, changed the name of the band a couple of times (becoming The Good Missionaries (1979-80) and The Door and the Window). In 1980 Perry mad a solo record and after that he formed Reflections (know also as Reflections with Nag) and he even re-formed the old line-up in 1981 to record the LP Strange Kicks.
Tyrone Thomas now plays with the Three Key Sound.
Discography:
Love Lies Limp (one-sided single given away with Sniffing Glue fanzine) 9/77
Knights of the Future / Alternatives to Normal Eating (given away with Italian Red Ronnie's Bazar No. 4' fanzine) -77
How Much Longer / You Bastard (Deptford Fun City DFC-002) 11/77
** LP ** The Image Has Cracked (Deptford Fun City DLP-01) -78
Life After Life / Life After Dub (Deptford Fun City DFC-04) 2/78
Life / Love Lies Limp (Deptford Fun City DFC-05) -78
Action Time Vision / Another Coke (Deptford Fun City DFC-07) 5/78
** LP ** Here and Now: What You See Is What You Are (Live LP, on the other side band called Here and Now; Deptford Fun City DLP-02) 9/78
** LP ** Vibing Up the Senile Man (Deptford Fun City DLP-03) 3/79
The Force Is Blind / Lost in a Room (Depford Fun City DFC-10) 4/79
** LP ** Live at the Rat Club 77 (Crystal CLP-01) -79
** LP ** Action Time Vision (kokoelma; Deptford Fun City DLP-05) -80
The Ancient Rebels / Dub in Bed (IRS PFP.1006) -81
** LP ** Strange Kicks (IRS/A&M SP-70023) -81
Communicate /Obsessed (IRS PFP-1009) -81
** MC ** An Ye as Well (live recording from 78/79 on other side Good Missionaries; Conventional Tapes CON-14) -81
** CD ** My Life as a Child Star
My Baby s Laughing / ??? (Anagram ANA-36)
** LP ** Peep Show (Anagram GRAM-32)
** LP ** Splitting in 2 - Selected Viewing (Anagram GRAM 40; also as CD CDGRAM-40) -89
** CD **The Image Has Cracked (The ATV Punk Collection) (Anagram CDPUNK-24)
** CD ** Live 1978 (Overground OVER29CD) -93
** CD ** My Life as a Child Star (Overgrond OVER39CD) -95
** CD ** The Radio Sessions (Overground OVER44CD) -95
** CD ** The Industrial Sessions 1977 (Overground OVER49CD) -96
** CD ** Alex Fergusson's Perverse Ballads (Overground OVER51CD) -96
** CD ** Apollo (Overground OVER 82CD) -99
Most important tracks on compilations:
Forepaly No. 46 A&M's Sampler: The Ancient Rebels (promo-mini A&M SP-17166) -81
I.R.S. Greatest Hits Vol 2&3: Action Time Visions (IRS SP-70800) -81
Burning Ambtions: Life (Cherry Red D-RED-4)
DiY 2: The Modern World - UK Punk II (1977-78): Action Time Vision (Rhino Records R2 71172) -93
Book:
Erica Echenberg & Mark P.: And God Created Punk (Virgin Books ISBN 0 86368 874 X) -96
From PUNKNET 77 - Alternative TV Text by Jukka Junttila © 2000