Guy McAffer

RAW is a new techno label from London led by Guy McAffer (a.k.a. Geezer, Carbine, Temperature Drop, Sarcoblast) who has worked for labels such as Stay Up Forever, Cluster, Pounding Grooves, Tortured, CL Recordings, Smitten and more.

Ripe Analogue Waveforms (RAW) was founded to create an opportunity for the release of previously uncharted territory in techno.

As Geezer notes, he is now teaming up with his own selection of "bleeding edge techno artists, to create techno which is fresh and completely different from any release before on any other label . . . Guaranteed top quality dancefloor techno".
Geezer, or Guy McAffer, is one of the best known producers/songwriters on the hardcore acid/techno scene. He has numerous releases (such as Mad Cows on Acid and Cheesegrater) which have become dancefloor classics. Labels such as Cluster, Sperm and Stay Up for Ever regularly put out Geezer tracks. A recent release, a CD called Punk Floyd has a cover with pictures of 303's flying over Battersea Power station. He also makes up one half of the infamous Audio Pancake with Carl, who used to be bass player in the same band which featured Geezer on keyboards, Back To the Planet.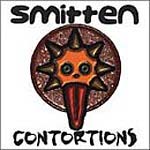 Various Artists - Smitten Contortions -featuring Audio Pancake (Imperial Dancefloor).
We started working with Geezer after the demise of Punishment Farm Studio, by which time he had already started becoming Mr. Techno. He had done an acid mix of our song Dadawas . . . and we started taking our songs round from our studio in Hatcham (a.k.a. New Cross) to Geezer's for a full production.
Some of the versions that are listed as 'song' in the list we have then taken back to our studio and continued working on, overdubbing percussion, vocals and guitar, and editing down on the Mac.
Four out of the six songs on our peoplesound.com CD Unlocked are on this list. of the songs.
Anyone wanting to contact Geezer should first e-mail Fantom Powa Publishing at editors@fantompowa.net
---
Geezer's two new record labels:
RAW • TECHWORKS
1st 12" vinyl releases on both labels in November 1999
OTHER CURRENT RELEASES
SMITTEN 33
Chris Liberator and The Geezer;
Our Shit Is Out There.
SMITTEN 34
Audio Pancake;
Meltdown to The Millenium
HIGH WIRE 4
Jah Scoop
Lock Dub Pts 1&2
INFECTED 7
Geezer
Burn Bits 2
SHEET ACID 2
Geezer
Organgrinder
INTENSIVE
DJ Damien and the Geezer
Self Sustaining
LOADS MORE SINCE THIS WAS LISTED . . . .Check