PUNISHMENT FARM STUDIO, DEPTFORD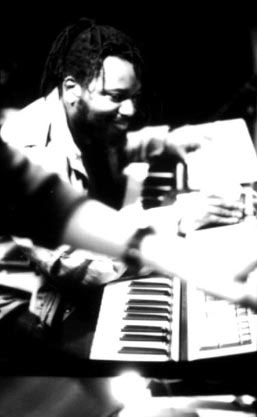 Bevan Burke, studio engineer at The Punishment Farm, 1995
Situated in Deptford at the junction of old Butts Lane and Flagon Row, the studio produced some of the hardest underground dance sounds of the time. Perhaps the most famous product was from the Stay Up Forever/Liberator Posse, notably the infamous Geezer and rhythm maestro Henry aka D.A.V.E. the Drummer. (Check It ain't Detroit But its F***ing Avin It) These two had featured previously in the crusty chart-toppers Back to the Planet, whose vibrant dub and explosive live performances gave us some hope during the miserable Tory regime of Major and Morrissey. It should also be mentioned that Carl, formerly of B.T.T.P. also, is the other half of techno aural terrorists Audio Pancake.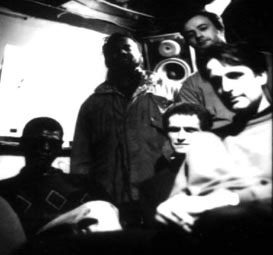 The Three Key Sound at The Punishment Farm, 1995
Our engineer and co-producer on these sessions was Bevan Burke, formerly bass player in the Dave Howard Singers, and later, of top crusty group The Sea. He had also, co-incidentally played bass for a short stint with Nu Igliss Languish, when we were rehearsing at Peckam's notorious Dole House in the mid 1990's.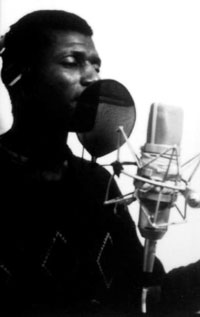 Tony Hippolyte at The Punishment Farm, 1995
After visiting Punishment Farm to compile our first album, Over The Horizon, recorded in true ghetto lo-fi fashion, Bev slapped a rootsy bass line on our the classic Horizon single; we then cut the dub, and built a big mix for side two. This was the first record released from this studio. After this collaboration, we recorded another 18 songs in the studio, before it moved up East, and the building was condemned and closed down by the public hygeine and Fire departments.We then moved our production to Geezer's studio in New Cross.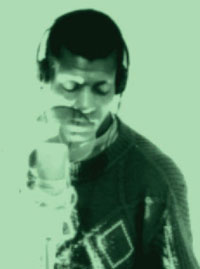 Tony Hippolyte at The Punishment Farm, 1995
All pictures by David Somerset, © 1995
BACK TO THREE KEYSOUND HOME PAGE