Jane Lisewski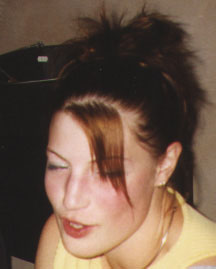 I was born in Sheffield, England, April 2nd 1979. My main interest had previously been directed towards fine art. Since 1996 I have been casually working for the Yorkshire Sculpture Park in Wakefield near Leeds, working as a technician in sculpture workshops. I work with various groups of people ranging from young children, people with special needs like autism and downs syndrome, college students and adults. The work also includes taking groups of visitors on tours of the current exhibitions on display in the park.
While studying fine art at college in 1997 I formed a band called Dalblue. Through this band we achieved a good degree of local success with a blend of funk, dub and trip hop. We have done many gigs throughout the north of England, which has enabled me to meet other musicians and get involved in music of different genres.
In early 1999 I was asked to do vocals for an acid jazz group called Brained in a one off set in Sheffleld. This is where I met John Heathcote of Three Key Sound and was asked to do some work with them. This has been very exciting and new to me, and I have been able to learn a different approach to the making of music.
Dalblue have recently split up and I am in the process of forming a new band provisionally named Kush.
Ivor Denbigh
Singer on tracks from Punishment Farm
Perhaps best known for his vocals with the esoteric Digidub, Ivor has spent the last couple of years touring Europe with sound systems. Someone who takes the concept of the wandering minstrel to the max, Ivor has a collection of thousands of songs from around the globe, and we believe, outside the globe.
Soldiers Song is an evocative folksong which tells the story of life beneath (literally) the invader set to a dubbed out dub tune.
Tikka Tikka Boom Boom is atmospheric ragga, which looks within the alchemy of conflict
Fil Planet
Singer on tracks from Punishment Farm
Singer with the band Back to the Planet in the early 90's who did much to reinvent live dub fused with fast dance beats. Their roots were firmly in the alternative, travellers scene which was destroyed by a combination of state oppression and the new transport laws. By the time that the Planet signed to London Records they had built up a massive following through the underground squat and festival circuit. However, the transition to the established side of the business was not totally successful; and the band broke up after the second album. They have all pursued projects since then within the underground scene that carried on mutating in the 90's to the free party/squat party technophilia.
Fil currently fronts a band which includes former members of The Sea. They play a fusion of dubby techno and funky beats. Fils lyrics are an engaging mix of the personal and political.
The song Submission is a haunting melody hung over a breabeat and the swhirling synths of the greys. The song Stranger (sung with Tony Hippolyte) is dub melody, techno intensity, talking bout unity on a strange planet.
---
BACK TO THE PLANET, formed London, 1989.
From: THE ROUGH GUIDE TO ROCK
"I used to work for a record company as a junior and they were always talking about music like cornflakes: make it look right and make it easy to recognize and people will buy it. We haven't done that." Fraggle

The first Back to the Planet release in 1991
The Back to the Planet scene was a quintessential part of late-80s Britain - unemployed musicians hanging out in a squat (bizarrely, in their case, a disused unemployment benefit office [The Dole House in Peckham]) and spending the summer with the New Age travellers on the free festival scene. It was the stuff of Conservative nightmares, and featured high in the government's catalogue of scapegoats.
All the more ironic, really, since it was a subculture with a strong streak of entrepreneurial DIY. After a couple of years gigging at festivals, clubs and raves, Back To The Planet produced a cassette-only release, Warning The Public (1991) and shifted over 5000 copies themselves. The band comprised the briefly named Fil (vocals), Fraggle (guitar), Carl Hendrickse (bass), Henry (drums) and Guy McAffer (keyboards). They gigged more or less constantly through 1991 and 1992, pausing only to release a single, "Revolution Of Thought", which embraced ska, reggae, dance and pop influences. As ever, they promoted it up with a string of festival appearances, including an infamous rave at Castlemorton in the heart of the English countryside, which the government used to whip up support for the following year's Criminal Justice Act - a bill specifically designed to outlaw Back To The Planet and their ilk.
In 1993 the band signed a deal with Parallel, who released their single, "Teenage Turtles". For an act who championed anti-fascist groups and causes like the Hunt Saboteurs, it seemed rather simplistic to blame a bunch of children's cartoon heroes for society's ills, but it was a great record - just the kind of infectious pop they had always threatened to make. If you need comparisons, then the closest in sound and spirit were Senser and Credit To The Nation, whose 'collision pop' similarly mixed rock with rap and dance. The band were by now one of the most popular festival acts in Britain - and their 'Who's Fucking Planet?' T-shirts a mainstay. However,
this support failed to translate into mainstream record sales. Their next single "Please Don't Fight", a dubbed-up song with a hint of Eastern promise, flopped, as did its follow-up, "Daydream", a floaty, summery pop song; and their debut album, Mind And Soul Collaborators (1993), despite a fine collection of tunes, fared equally poorly. Parallel had had enough, and dropped the band.
Back To The Planet responded with a return to their roots and another year of frantic touring. They re-emerged in early 1995, having re-activated their own Arthur Mix label and recruited new drummer Amir K. Mojarad for a single, "A Small Nuclear Device", and a mail-order album, A Potted History, which collected their early cassette releases. These financed the recording of their second album proper, Messages After The Bleep (1995), which drew on their usual collision of ska, dub, techno and pop, and also found them exploring their atmospheric side, indulging in reverb and spooky keyboard sounds.
ALBUMS
Mind And Soul Collaborators (1993; Parallel). Ranging from spacy dub to the great pop of the singles. The political concerns also come to the fore, covering imperialism, ecology and, of course, those damned turtles.
Messages After The Bleep (1995; Arthur Mix). At times the keyboards bleep incessantly and songs are drowned in ambient wind/wave sounds. But there are still some fine, if overlong, electro-pop melodies.
James Sutherland Taken from the Rough Guide to Rock. © Rough Guides Ltd. First edition published Aug 96/Nov 96 (USA). Distributed by Penguin.
BACK TO THREE KEYSOUND HOME PAGE